How do you stand out, overcome boredom, and curtail monotony?
Contrary to the minimalist tendencies, to revive greys, we accumulate and multiply. Nature abhors a vacuum, isn't it ?
A mixture of raw materials, stone, brick, metal, old wood, an aged floor will emphasise an atmosphere that is simple, inviting relaxation and wellbeing..
Little or great value, deep sofas, bright cushions, plenty of books, a beautiful piece of office furniture, a couple of paintings, crystals, ornaments, mirrors or golden wooden seats, will offer a rich, baroque and elegant style.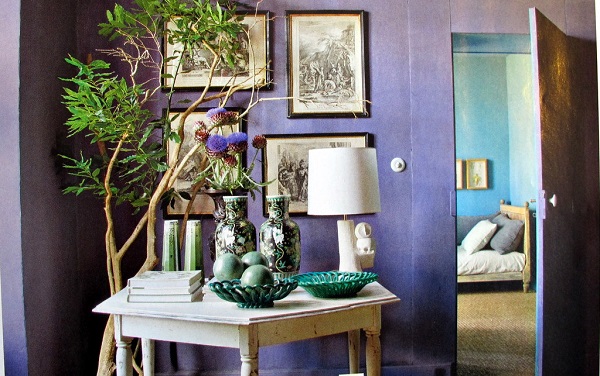 Photo Elle Décoration November 2018
What are the best ways to create a truly personal style?
Imagine a rich polychromy combined with the simplicity of ecru, be fascinated by the authentic and mismatched, let us adopt furniture that is neither too classic nor too modern, let us prioritize them, timeless, with sensual curves....
Let's dare to use colour without fear, or at the very least, opt for a bright touch, in the right place, to be clicked, in a matching colour.
Yellows, oranges, violets will explode into a symphony of warm tones, delightfully revealing the sun, energy and exuberance. Sea blues, golden yellow and anise green will bring light and joy, and blend with all natural tones of red, ochre and sienna. The greens, bright, invigorating, olive, almond, celadon, in total liberty as a requirement in nature, associated with shades of wood, will revive or soften, depending on their shade, the greys, the metal, the stone.

How can one reconnect with the authentic and the mismatched, in a well-controlled explosion of styles depicted with audacity?
Let us do away with the "total look" in favour of blending, combining, and building bridges between African, Indian or Eastern traditions and Western modernity, bringing back memories, travels and encounters.
A Noguchil coffee table, an Eames armchair, a Chinese cast iron teapot, an enamelled clay tea bowl, reproduction of the song era, an Italian sofa, a Khmer console, a statue of Vishnu, a cinnabar lacquer cupboard... to design your interior like a masterpiece.
Modernity is full of adventure, of movement. We should improvise, trust our instincts.