6:30 Arrival in Beijing! We left Luxembourg at 10:00.
Capital Airport is teeming with people. Everything is going quite quickly, only an hour to pass through customs..
Li, who we've known for more than thirty years, is waiting for us in arrivals. We're really looking forward to seeing him again.
He's going to drive us straight to the market, after which, he'll leave our bags at the hotel. He's really busy, he isn't able to give us a lot of his time this weekend, but he'll come for us on Monday morning. He'll accompany us for ten days in Mongolia and Qinghai...
Panjiayuan- Saturday
A nice, but very cold day. The gusting wind has cleared the sky of all traces of pollution. We dressed warmly and put on comfortable shoes.
That's it, we're here
It's the weekend! At the very heart of Beijing, some 3,000 stalls, the largest flea market in China, covering an area of 4.85 ha, with sellers from all the neighbouring provinces.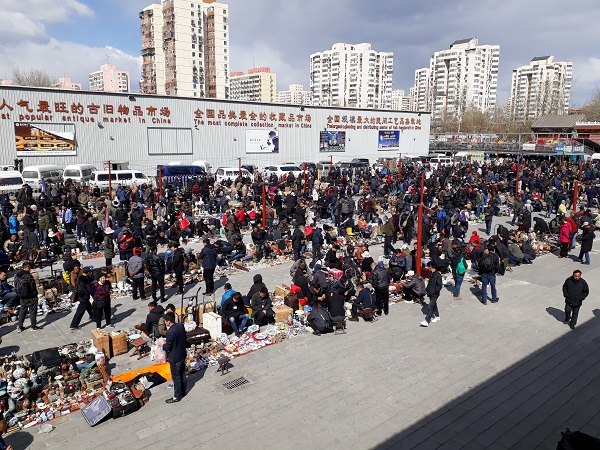 We've been coming here for a long time. It's a place with loads of colour, we've never missed it, even though it has changed greatly over the years. Haggling, reconnecting with it all is still an unequalled pleasure. Driven on by this quest, unique to bargain hunters, we're eager to find that rare item, that unexpected piece.
Time flies by
People greet us here and there. Everyone knows who we are and wants us to stop by. And always the same ritual of small stools set out in front, which we have to sit on to begin discussions. Sometimes they are of a theatrical nature, they are punctuated with quirky and unexpected gestures aimed at helping the negotiations in the absence of a translator.
Exhausted but happy, we reluctantly leave around 5:30, excited about the idea of coming back the next day.
Panjiayuan- Sunday
We slept fantastically and are on good form. The market is heaving. Sellers and people out for a stroll are in good spirits. Lots of small vendors all on the same patch offering porcelain shards and all sorts of lovely bric-a-brac and items from attic clearances.
We meet friends and acquaintances around every corner.

The place has changed greatly!
Over the past year or two, following a government ruling, concerned about fighting pollution, thousands of businesses and craftsmen have had to leave the greater capital city of Beijing-Tianjin for other cities such as Hebei, Guangdong and Shanxi. In just a few months everything was relocated...or abandoned.
Gone are the stalls selling ironwork, hardware, Miao ornaments, brightly-painted bronzes.
Fortunately, it's not yet quite a desert :-)
How do we pack up all these objects?
There's lots of laughter and good humour over the two days, but we still remember to list down and then take a photo of each object, label and pack it carefully, before placing it on the tray of our tricycle.
C'est quelquefois frustrant, parce que nous aimerions déjà passer à autre chose. Il y a tellement de choses à voir.
As soon it becomes tricky to balance, it's off to the packaging stand where we do our own boxes. Everything has to be perfectly packed prior to the big trip. It's something we really worry ourselves about :-)
It's already the afternoon
About 2pm, we get something quick to eat, a delicious bowl of noodles, gone in seconds, and that's it until they close the market!
Our Asian friends like to take their time. Why are the days so short?
We did well not to hang around. We'll make the most of the afternoon..
Our acquisitions.
We managed to negotiate amongst other lovely pieces a pair of horses, in Cloisonné enamelling, which we particularly liked and which, unfortunately, are increasingly difficult to come by due to a lack of skilled craftsmen..
It's a real shame that in China, as here, these traditional crafts no longer interest people.
We also pick out some hat boxes and gift boxes, little touches of colour for our contemporary interiors!
And then, like each time, we pick up dragons, phoenixes, bats, as well as opium pipes, a multitude of stamps, some superb buddhas and an astonishing collection of snuffboxes.
The shapes and materials used for these small containers are mostly out of porcelain which seems to be the material of choice. There is an unbelievable diversity. They come with a tight stopper, in jade or porcelain, and on their base, there is a miniscule spoon. They're designed to slide into the pocket.
They sometimes also use ivory, coral, gold, mother-of-pearl or glass, to which they often add oxides, then polish as though it were a semi-precious stone to make it look like jade, amber or agate.
There are also all sorts of horses, so beautiful, represented saddled-up, free, galloping, mounted by horsemen or falconers..
There are also all sorts of horses, so beautiful, represented saddled-up, free, galloping, mounted by horsemen or falconers.
Two intense and fulfilling days!
Panjiayuan closes its doors and we reluctantly leave. The weekend is complete! The market empties.
We've managed to get some great pieces, some of which are definitely copies of museum pieces. Not bad, if they're good quality and bought at a fair price.
A small armadillo in bronze, gilded, a reproduction of a funerary piece from the Han dynasty, as well as a panther in the same style- we must have spent an hour negotiating for them.
We would have been very disappointed not to have got them. They're such great items!
The big trip
All our purchases, Furniture & Pieces will be collected, restored if necessary, then loaded, under the watchful eye of Li, into a maritime container, which will leave the great port of Tianjin at the end of May or early June and will take four weeks to arrive in Antwerp.

They should get to Luxembourg at the beginning of July!More photos to come.