A simple piece of furniture with multiple uses.
In ancient China, the trunk, above all a utilitarian item, was an essential part of the furniture. It served as a storage unit, and if necessary, as a trunk, during the owners' often frequent journeys..
There is a wide variety of different types of chests and trunks, which are distinguished more by their usefulness than by their size or weight.  
And some of them have found their way to us.
The wedding trunk
This refined piece was once offered to the bride to store precious items for her trousseau.
Often red, a symbol of happiness and good luck, it is painted on the top or sides with traditional motifs.
Animals, landscapes, court scenes, even toddlers, augur happiness and prosperity.
The opera trunk

This is the artistes' trunk, a chest used to store costumes and musical instruments.
Props, used to interpret the different characters in their repertoire, are stored there too.  
Sometimes covered with coloured leather, most often lacquered, decorated by skilled artists,
they are painted with flowers, butterflies, and sometimes decorated with kimonos.  
Always sturdy, they are most frequently made of elm.
The camphor-wood trunk
The wood of the camphor tree, Cinnamomum Camphora, is prettily grained and has a silky, satin feel.
Its powerful perfume enjoys fungicidal properties that keep moths away.
Camphor has been used for trunks since time immemorial and in all countries, especially China.
Designed for transporting or storing clothes and furs, they are omnipresent in the navy.
The student or scholar's trunk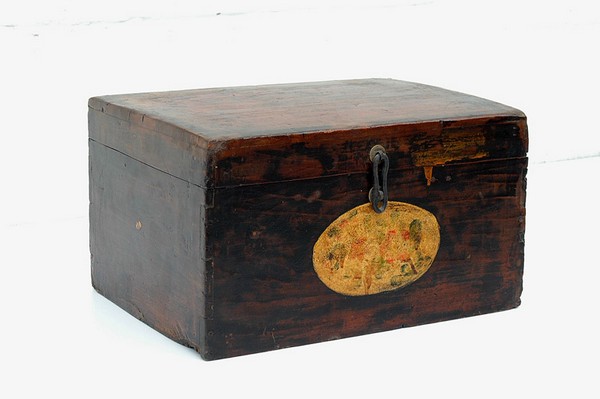 Designed for storing books and documents, often of medium size, some are decorated.
Others, more rustic, are brushed with ochre and walnut stain and painted with floral, geometric, musical or historical motifs.
Often used from generation to generation, few have kept their original decoration intact.
The strongbox trunk
In the 18th century, the Shanxi province became the pioneer of modern banking.
The fortified city of Pingyao retained its status as an internationally renowned commercial centre until the 20th century.
Some rare and perfectly preserved strongbox trunks, typical of this province and this period, are highly prized by collectors.
This magnificent strongbox trunk was used in a state bank. The calligraphic characters on the front mean "A member of the government must be incorruptible. A businessman must be honest."
Age-old skills and expertise
The wood could be immersed in manure pits for a few weeks, coated with diluted ox blood, egg white and milk casein. This treatment was intended to protect it from insects.
Soot, walnut stain applied with a brush and fixed with vinegar or cinnabar lacquer were used for the backgrounds, and sometimes also for decoration.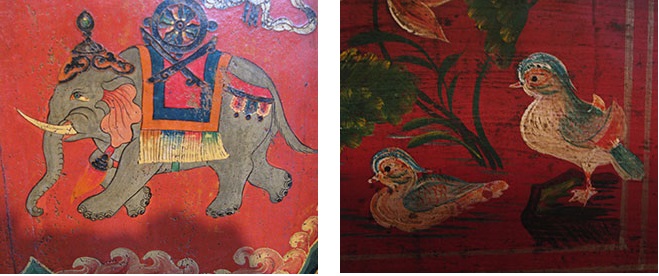 Some trunks are painted with traditional decorative or geometric motifs on the front and the top of the lid, more rarely on the inside.
Nail heads may also be used as decorative elements.
Our collection
Not all our trunks are online, some are stored in our warehouses, which are open by appointment.
Some are displayed in our down-town shop.
If you have a special request, please let us know.
Our warehouses are brimming with treasures!