Itirenary of a sea container.
After fumigation and loading onto a cargo ship in the major port of Tianjin (Northern China), our container took the southern route, passing through Hong Kong and the Philippines and then continued its journey towards Malaysia. 
It then went through the Diesel-Allison Strait towards the Gulf of Aden, after passing through southern India, crossed the Suez Canal and entered the Mediterranean Sea towards the Strait of Gibraltar.
It finally made its way up the Bay of Biscay to Antwerp.
It sailed for four weeks, before being transported by truck to Luxembourg !
Unloading in our warehouse in Esch sur Alzette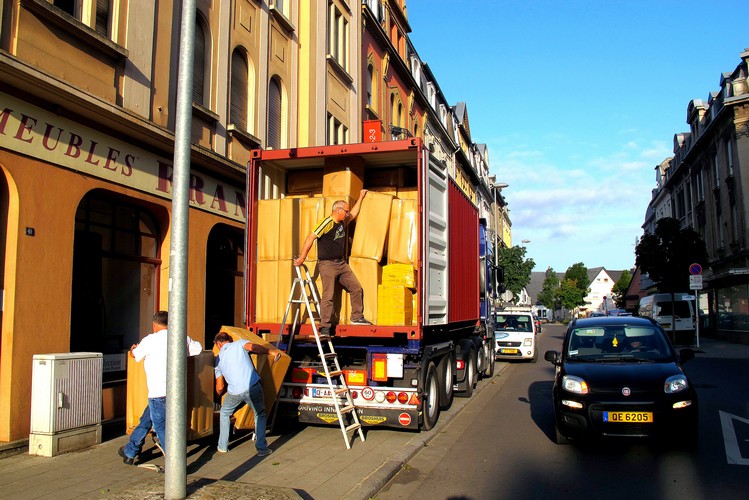 It is always an exciting moment opening the container doors after shearing the seals. 
In May, we chose Furniture & Objects, piece by piece, then returned to China at the end of June for inspection. It took three months to receive them. 
It is heart-warming to receive them in Luxembourg. It is reassuring to see that everything was perfectly packaged and arrived in good condition.
What an excitement! Two experienced people climb into the container and unload, while two teams in tandem, transport the packages to the warehouse elevator. In the process, each box is identified and ticked on the packing list.
To know a little more about the origin of this last arrival
Small storage unit with two doors and two drawers in yellow lacquer
Toy trunks in red or yellow lacquer
Armoires, buffets, coffres, consoles, délicatement laqués dans des tons subtiles, qui leur conférent beaucoup de charme et de présence, proviennent d'un petit atelier d'ébénisterie avec lequel nous travaillons depuis des décennies.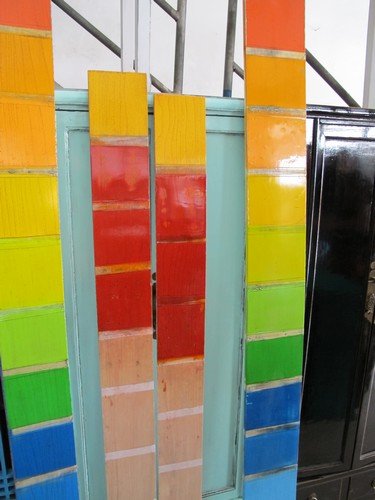 Cabinets, sideboards, chests, consoles, delicately lacquered in subtle tones, which give them a lot of charm and presence, come from a small cabinet-making workshop with which we have been working for decades. Specialised in restoring old objects, Li, whom we have known for more than thirty years has also recently been producing high quality handmade carbon copies, thanks to an age-old know-how and a well-perfected technique. 
Quality wood, expertly assembled, attention to detail and proportion, a luminous, creamy lacquer made by a master lacquerer, gives quality, uniqueness and charm to his new productions. 
Since our last visit, our friend has had a lot to do, because in six months, following the government's injunction to fight pollution, he had to leave Beijing's megalopolis, like thousands of entrepreneurs, to move to Hebei, while others chose Guangdong or Shanxi. 
Li has refurbished hundreds of pieces of furniture, sumptuous consoles, lacquered cabinets, Siberian elm chests, monk's chairs, concubine chairs, etc. for China Collection.
 Unfortunately, it is becoming increasingly difficult to find antiques in China, if not at exorbitant prices! We are therefore delighted to still have superb pieces in our warehouses in Luxembourg, and to be able to offer you high quality carbon copies.
The pieces we just received are MAGNIFICENT!